Update: Our current April batch is now FULL and closed for new enrollments. This is to make sure we can provide personal attention to everyone who wants to learn and expert software testing from us.
Our next batch will be starting from 26th May 2014. We will start enrollments for this batch from 15th May 2014. Meanwhile, you can get instant access to videos only course by making payment on this page.
Sign up to be notified first when we re-open the doors for new enrollments, offers, and more free demo sessions:
********************
Learn & Master Software Testing Quickly from the Experienced Professionals - Guaranteed!
The Best Software Testing Training You'll Ever Get!

By SoftwareTestingHelp.com Team

Home | Why Us? | FREE Demo | Testimonials | FAQs | Pricing | Contact
---
Hello,

We are familiar to you all through SoftwareTestingHelp.com site. As you know, we always strive to give back the knowledge that we gain from our experiences to the testing fraternity. To extend the same philosophy, we are coming up with a more structured curriculum in the form of a Software testing course.
Are you bored with info-dump courses and looking for practical real-time testing experience and training?
Are you tired of searching for testing job openings, good resume assistance, and interview preparation?
Are you struggling to learn and introduce new things on your first software testing job and want to stand out from your colleagues?
My friend, you've come to the right place — because we've got the answers to all your problems.
Introducing the Most Practical, Precise and Inexpensive Software Testing Training Course: Software Testing (Basics + Advanced) + Automation Basics
It is going to include everything there is to know for you to become a perfect Software Tester. This software testing QA training course is designed by working professionals in a way that, course it will progress from introducing you to the basics of software testing to advanced topics like Software configuration management, creating a test plan, test estimations etc. along with introduction and familiarity with Automation testing and tools like QTP and QC.
Who is this Course for?
This course is the perfect opportunity for all those who are looking for Software Testing (basics + advanced) training. If you are new to the IT field, want to increase your software testing knowledge,  and want to pursue a career in Testing or if you want to make a career move from a different technology, this course is just for you.
In this course we will teach you the most practical things required for you to get and survive a software testing job.
If you are a just college passout, this is EXACTLY what you are looking for to open the doors for your dream career

If you are an experienced professional from ANY other field but wanted to be in software testing, this course will help you make this switch smoothly

If you are an experienced testing professional, you will be amazed with the new things and advanced tactics you will learn to work efficiently and smartly in this field.   
The Course Benefits:
Syllabus:  We came up with a unique list of topics that will help you gradually work your way into the testing world. It not just includes the traditional testing methodologies but will give you a glimpse of the ways of testing that are coming up.
Interactive: It is going to be completely interactive. Our aim is to make each class feel like a brainstorming session.
Practice sessions: With each topic, we will give you assignments in a way that you will get to apply the theory you learnt immediately.
Communication improvement: We believe that a tester's expertise should have a reach that is beyond the technical knowledge.  Through this software testing course we want to train you on how to be an over IT professional and not just a tester. Your verbal and written communication skills are going to be vastly improved through this course because we are going to interact on a regular basis.
Resume Support and Interview preparation: We will review your resume and let you know how you can make it more effective.  We will not just give you a list of interview questions, we will go over them with you and make you job ready.
Support:  Our Team is going to be available to you via email or the website for you to reach out to us
"I think this class was right choice for me.  Every learner can learn more about definitions from any book, but hardly involve in practice that what makes us perfect . In my case, I have been reading many books, taking You tube online training, since from last three months, but when Swati gave us assignments  to write Test cases and Test case Scenario last week, I feel like that is what matter to become tester (think hard, be creative) instead of just reading book." - Roshan Bharatee

"The online sessions are very interesting. This is the best training that I never got before from anywhere. Many thanks" - Moise Ake

"I took the testing course before but I like this course because it is providing us a lot of information on how testing goes in real time. I really appreciate about the live project which helped me to gain confidence about the live work. I am thankful for giving the immediate feedback to our assignment work. My Special thanks to Swati for providing quick response to our questions and the way how she explains." - Yamini Kothala

Check out More Testimonials on this page.
Course Content:
Software Testing (Basics + Advanced)  + Automation Basics Class - Training Plan
Week 1 - Topics
Brief introduction to software systems and SDLC
Basic concepts
Basic Testing Vocabulary

Quality Assurance versus Quality Control

The Cost of Quality

Software Quality Factors

How Quality is Defined

Why Do We Test Software?

What is a Defect?

The Multiple Roles of the Software Tester(People Relationships)

Scope of Testing

When Should Testing Occur?

Testing Constraints

Life Cycle Testing

Independent Testing

What is a  QA Process?

Levels of Testing

The "V" Concept of Testing
Week 2 - Topics
Testing Techniques
Structural versus Functional Technique Categories

Verification versus Validation

Static versus Dynamic Testing

Examples of Specific Testing Techniques
Test Administration
Test Planning

Customization of the Test Process

Budgeting

Scheduling
Create the Test Plan
Prerequisites to test planning

Understand the Characteristics of the Software Being Developed

Build the Test Plan

Write the Test Plan
Week 3 - Topics
Test Cases:

Test case Design

Building test cases

Test data mining

Test execution

Test Reporting

Defect Management

Test Coverage - Traceability matrix
Test Metrics- Guidelines and usage
Test reporting:
Guidelines for writing test reports
Week 4 - Topics

Test Tools used to Build Test Reports
Managing Change
Software Configuration Management

Change Management
Risks - Risk Analysis and Management with examples
User Acceptance testing - in detail explanation with details
Case Study: How to test web, stand alone and database applications - with examples.
Help with resume and testing interview skills.
Week 5 - Topics
Automation Testing Basics
Basics of automation testing - why, when and how to perform automation testing

Factors for choosing a particular tool

An overview for the major functional testing tools

Overview of Test management and bug tracking tools
Enroll Now! Click to join our upcoming Live batch.


Why Enroll with SoftwareTestingHelp?

Course training by experienced working professionals who are passionate about software testing

Instructor led LIVE training sessions

Course content designed by considering current software testing technology and the job market

Practical assignments at the end of every session

Practical learning experience with live project work and examples

Individual mock interview session

Job placement assistance with job alerts until you get your first job

Free eBooks and loads of software testing study material

Video recordings available to revise training

Assistance for selecting the best certification program based on your experience and educational background

Assistance for passing the ISTQB certification with our premium ISTQB question bank

Course completion certificate (on request)

All-time support for your questions

Lifetime enrollment - Pay one time fee and access video training sessions as many times as you want.  (no need to worry about missing any session)
Bonuses:
Bonus 1 - Our premium Software Testing Career Package eBook valued $15, yours for free: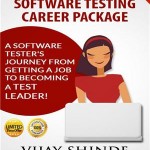 Every crucial aspect of software testing is covered in this eBook. It is a valuable reference source for new software testers, managers, and developers, alike. It has a lot of good information, which is unbelievably practical and easy to understand. You will get a 13o+ pages PDF with systematic and simple way to understand software testing methodology along with a bonus chapter - Freelance testing opportunities for testers to earn extra income!
Bonus 2 - ISTQB Premium question bank and study material valued more than $35, yours for free:
Our ISTQB study material will provide everything for you to prepare for this exam. The material is verified by certified ISTQB experts and many students who actually used this material for passing the exam with high scores.
Bonus 3 - Resume review and assistance to prepare a professional resume valued more than $50, yours for free
We will review your resume and help you to make it more effective and professional. We will also help you prepare for interview by taking mock interview so that you can face any interview confidently.
 
About the Instructor:
Swati Seela will be facilitating these sessions. She is a computer science Engineering graduate with more than 9 years of Software Testing & QA experience. She is CSTE and CSQA certified and also an expert in many automation tools including QTP and QC. She will be conducting these online sessions from Bakersfield, California, USA.
"I am 100% satisfied with the course and its content. Swati is very professional and explains every question I have in regards to software testing.If we have any suggestions or advice we always send a question to Swati and she explain it very professionally." - Aamer Choudhry

"I congratulate you both for conducting this training with so much detail and smoothness. Swati is a great teacher, experienced and very knowledgeable. She is very prompt with her response and encourage and explain all the questions/answers. I have learn a lot from this course. Thank you!" - Ritu Todi

"This course have been designed in such a way that everyone from any discipline can understand about the roles and activities as a test engineer in different environments of SDLC. Swati is an excellent teacher with having the best teaching techniques. I love the way she teaches, and definitely, this course has helped me to understand the whole scenario of roles of a test engineer, most importantly, the live project helped me to get knowledge how to work as a test engineer." - Farzana Nazir

Check out More Testimonials on this page.
FREE Demo Sessions:
Try a free demo sessions to see for yourself the quality of this software testing training course that is offered at unbelievable price.
For Demo and Day 1 session please visit below page:
=> Click here for FREE Demo Sessions
 
Why Only Limited Spots?
We will be letting JUST 15 people in on this batch. We want to make sure we are providing personal attention to each student in order to make you a perfect software tester.
Upcoming Batch Schedule:
Course name: Software Testing (Basics + Advanced) + Automation Basics
Course start date: 26th May 2014
Time: 7.00 PM PST 26th May 2014 (i.e 7.30 AM IST 27th May 2014)
Course Duration: Approximately 5 Weeks, Regular Mon-Wed Batches, 3 days per week, 2 hours per day. Live training sessions and live project + access to all training videos and bonus material.
Live training sessions will be conducted using the GoToTraining online training software. You don't need an account. We will send invitation to join the live sessions.
Pricing and Payment Options:
=> Live + Videos
For Live sessions + Videos + Resume Review + Mock Interview + Training Material + All Bonuses
US $200 Only US $149 or INR 12000 Only INR 8990/-  (That's 25% discount for the first 15 spots only).
Important: If the system doesn't accept your credit card or if you have any questions that have been unanswered, please email me directly: shindevijaykr@gmail.com or visit this FAQ page.
Thank you,
Vijay and Swati.
P.S. If you need this course, and are hesitating, just remember that those who hesitates are lost. The law of nature is simple - Sow and you shall reap. You have to be prepared to sacrifice today, for even greater gain tomorrow. Like you, even we struggled from month to month. Now we are facing any on-the-job challenge confidently. I know from experience, that if I don't make the sacrifice earlier, I never get ahead in life. If you want to get ahead in life, this is your moment. Don't hesitate.
We know the importance of your money. Hence we are offering this course for very affordable price compared to the institutes who are offering 4-5 days crash courses for more than $1500. For sure, we know our hands-on job oriented training from experienced professionals is better than those crash courses.
Providing quality training to you is our responsibility. We will use all our experience to make you an expert software tester.
Agree, Reserve my Seat Now!

---
Choose Your Software Testing Package
Please feel free to contact us for any queries.
© 2006 - 2013  SoftwareTestingHelp.com - Helping testers since 2006. All rights reserved.