Attention All ISTQB Aspirants…
Complete ISTQB Certification Premium Study Package
Confidently Appear and Pass the Foundation Exam Easily with Our Comprehensive Premium Study Material
Good news for all ISTQB aspirants!
Now you can aim for scoring high instead of just passing the ISTQB foundation exam.
Want to know how? continue reading.
We have been helping testers pass the ISTB certification exam for the last 6 years. Thousands of ISTQB aspirants passed this certification exam with the help of our study material and tips.
Today, to continue that success or even increase the passing rate to 100%, we are introducing the premium ISTQB study material – ISTQB dumps and study guide that we never shared before. This is a combined effort of the last 6 months by the STH team.
Why our study material is premium resource to pass this BH0-010 Exam?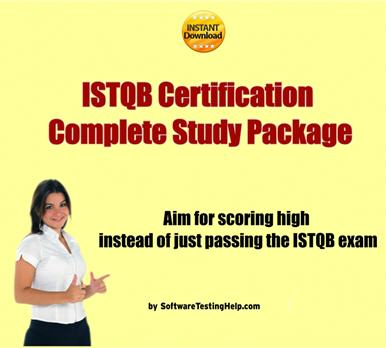 Our ISTQB study material will provide everything for you to prepare for BH0-010 foundation level exam. The material is verified by certified ISTQB experts and many students who actually used this material for passing the exam with high scores. You can also quickly revise the important ISTQB topics before the exam with the help of this study material.
What is this ISTQB study Package?
Complete Question Bank with all the details

You will not only prepare for the exam but also learn the software testing fundamentals

Regularly updated premium question bank so you get the most up-to-date study material

Study material is applicable for ALL ISTQB exam boards including UK, US, and India boards.
All exam questions and study material is based on the latest ISTQB syllabus. The question bank is prepared from the experience of the candidates who have recently taken this exam. These questions are helpful to ISTQB exam irrespective of the board. You can take the exam from India, UK or any exam board. These questions and study material will be useful to you as it is designed by considering the core ISTQB syllabus and the three question categories (K1, K2, and K3) of the ISTQB exam.
I passed the exam with 80%. Thanks for the sample papers. Your website is very helpful.
According to my experience here is how I prepared with this study material:
1. Going through the ebooks is compulsory (1 week)
2. All question papers provided in this guide should be practiced (3 days)
– Shwetha K.
Hi Vijay,
One Good News. Today I cleared my ISTQB foundation level exam :)
Thanks for your ISTQB exam preparation material. Now my next target to clear advance level exam.
– Swanand Pawar
Hi Vijay,
Thanks a lot. I have completed my ISTQB exam with 93%.
Your dummy's helped me a lot to get the confidence. I am big fan of you in testing world.
– Thanks, VarunReddy.V
I am very glad to inform you that I have cracked the ISTQB exam. I am very grateful to you. It is just possible because of your help…..
thank you very much.
– Veer
I took my ISTQB Foundation exam today and cleared with 85%…
Thank you so much for all your knowledge transfer, question dumps, ebooks. I will keep you posted once i get a job in testing field.

Thank you once again.
– Regards, Nithya.
What is included in this Premium ISTQB Study Package?
The study material includes:
1) ISTQB Exam details and tips
ISTQB Exam Details and Preparation Tips

ISTQB Exam Structure and Rules

Sample paper with answer sheet
2) Best ISTQB eBooks
ISTQB Foundation Level Syllabus and Preparation guide – 78 pages pdf

ISTQB Reference Book – 201 pages pdf

ISTQB CTFL Exam Training – Testing Basics – 123 pages pdf

3) Normal Practice Questions – total 1200 questions with answers

1000+ sample question papers for practice

True false questions with answers

130+ Questions Answers with Explanation
4) Premium Practice Questions (must read) – total 400 questions

400+ PREMIUM questions with answers
Overall, this ISTQB study material will make you feel comfortable taking and passing this exam with high scores.
Happy to share this wonderful news with both of you. I have cleared my ISTQB certification today.

For exam preparation I referred all your eBooks. Divided the chapter and started reading finishing all chapter taking notes one by one.

Thoroughly prepared all of your Question and Answers especially your Premium Questions. Decided today to end up the preparation part and took the examination. Your premium questions is the one which helped me to score Century 40/40.

Achieved the results as I planned. But without you people this wouldn't be possible.
– Karuvarasan S.
How to Download?
We want to make sure we reward those who took very hard efforts and spent countless hours on helping us to prepare for this study material. We also want to encourage them to continue helping us to update and tweak this study material time to time so that it will be fresh, helpful and keeping pace with the changes in ISTQB syllabus. You need to purchase this premium study material for a small one time fee. After one time purchase all future updates/additions to this package will be provided to you free of cost.
After purchase you will get instant access to a downloadable zip file (Size 23 MB) containing all this study material for you to start preparing for the exam right away.
Pricing: As an introductory offer, we are making this incredible ISTQB resource available to you for only $40! $26 for a limited time only. Your one-time payment of $26 gets you instant access. Pick up your copy today before we increase the price!
Pay Safely With Any Of The Options Below
If you experience any difficulties or have concerns please feel free to contact us.
Want to pay in INR using net banking or cash deposit? Pleases email me at: info@softwaretestinghelp.org and I will send you the manual payment details.
Thanks for taking the time to read this. We wish you all the best and success.
Sincerely,

Important: Our premium question bank itself is enough for you to pass this exam with high scores. But that is not the purpose of creating it. While preparing for this exam try to relate the questions and answers with the practical testing experience. Do not just memories the answers for the sake of exam. Understand the concepts while learning and apply those in your practical testing work. This will make your preparation easy and you will never have to worry about passing the exam. That's why we are providing the ISTQB books and study material along with the premium question bank.
© www.SoftwareTestingHelp.com – Helping testers since 2006. All rights reserved.