QA LIVE Project Training  – Make your Resume Stand Out with Real Experience!
Software Testing QA Live Project Workshop!

By SoftwareTestingHelp.com Team

Home | Why Us? | FREE Demo | Testimonials | FAQs | Pricing | Contact
---
SoftwareTestingHelp is very thrilled to announce its new endeavor, QA WorkShop that is sure to be beneficial for many QA job aspirants. This is for all of those who would like a guided experience of working on an end-to-end Software Test Project in a real time team environment.
The most common inhibitions QA aspirants face are:
How is the real time work environment going to be?

Theoretically everything makes sense, but is the real world experiences in line with what we read and hear?

How would an employer hire me without any real world exposure?

What sort of challenges would I face in my first project?

What would my employer's expectations be of me?

How can I gain the confidence that I can be successful in a QA career?

How to communicate formally, positively and effectively?
This live project training workshop is a perfect way for YOU to overcome all the above doubts.
When you enroll to the QA WorkShop, you would be a part of the team working under the guidance of a mentor.
What you can expect from this workshop:
A real time, full length, end-to-end project is tackled from the Requirement Gathering & SRS/FRD/FRS review, Test planning, Test scenario/case/data design, Peer reviews, Traceability matrix creation, Execution, reporting, metric collection, Defect Management and all the way to Test Closure.

The focus is on Process, procedures, tools, soft skills and functional expertise.

We would conduct business as it would be in a real time environment.

Small teams to promote in-team communication and individual attention by the mentor.

Plenty of opportunities for both verbal and written communication with the mentor and team members.

Best of Agile and Water fall methodologies to ensure maximum exposure to all market situations

Test management software will be used in order to maintain a centralized work management system

Individual performance reviews at the end of the program

References to verify your internship with us

Resume building guidance and interview tips
Prerequisites:  We recommend QA foundational knowledge, as this is an implementation based program not instructional.
Our Promise: As always, with STH we promise quality, integrity and a bang for your buck- this program is no different. Please reach out to us in case of any questions or comments, we would be happy to assist you.
---

 
Why you should join this QA Workshop:
It's a complete career package with following benefits for you:
Get real time QA project experience even if you are new to this field

Showcase this QA project in your resume to get your dream job

Learn how to build a professional resume that gets you the interview calls

Learn how to crack the interview
Plus
We will provide reference to verify your project experience with us

Get our premium Software testing career package ebook and ISTQB study guide free as a bonus with this workshop.

Course completion certificate (on request)

Support for your queries even after course completion

Lifetime enrollment – Pay a small one time fee and revise training as many times as you want via video recordings
QA Workshop Content:
Day 1: Induction
Day 2: Familiarizing with the application
Day 3: Requirement gathering
Day 4:  Requirement gathering  Contd.
Day 5: Test plan start and working on Test scenarios
Day 6: Test scenarios Contd
Day 7: Peer review of TS & TP
Day 8: Test cases
Day 9: Test cases
Day 10: Peer review test cases and create Traceability Matrix
Day 11: Cycle 1 Test execution and defect reporting
Day 12: Day 2 cycle 1 execution
Day 13: Metric collection and Day 3, cycle 1 execution
Day 14: Cycle 2 execution – day 1
Day 15: Cycle 2 execution – day 1
Day 16: Test closure and retrospection meeting
Day 17: Interview and resume info regarding the project Sign off – performance reviews
Day 18: Interview and resume info regarding the project Sign off – performance reviews
Day 19: Interview and resume info regarding the project Sign off – performance reviews
Day 20: Interview and resume info regarding the project Sign off – performance reviews

Enroll Now! Click to join our upcoming QA workshop

---
Bonuses:
Bonus 1 – Our premium Software Testing Career Package eBook valued $15, yours for free: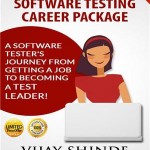 Every crucial aspect of software testing is covered in this eBook. It is a valuable reference source for new software testers, managers, and developers, alike. It has a lot of good information, which is unbelievably practical and easy to understand. You will get a 13o+ pages PDF with systematic and simple way to understand software testing methodology along with a bonus chapter – Freelance testing opportunities for testers to earn extra income!
Bonus 2 – ISTQB Premium question bank and study material valued more than $35, yours for free:
Our ISTQB study material will provide everything for you to prepare for this exam. The material is verified by certified ISTQB experts and many students who actually used this material for passing the exam with high scores.
About the Instructor:
Swati Seela will be facilitating these sessions. She is a computer science Engineering graduate with more than a decade of Software Testing & QA experience. She is CSTE and CSQA certified and also an expert in many automation tools including QTP and QC. She will be conducting these online sessions from Bakersfield, California, USA.
FREE Demo Session:
Try a free demo session to see for yourself the quality of this QA workshop that is offered at unbelievable price.
=> Click here for FREE Demo Sessions
Why Only Limited Spots?
We will be letting limited people in on this workshop. We want to make sure we are providing personal attention to everyone for checking assignments, test progress, resume guidance and mock interviews.
Upcoming Batch Schedule:
Course name: QA Live Project Workshop- Showcase your project experience on your resume!
Course start date:
Time:
Course Duration:
Pricing and Payment Options:
=> QA Live project instructor-led online workshop + Video recordings
US $200 Only US $149 or INR 12000 Only INR 8990/–  (That's more than 25% discount for limited seats).
Payment Options:
Option 1) Secured Credit Card Payment:

Option 2) Paypal or Credit Card Payment:

If you don't have Paypal account you can still make credit card payment using this payment option.
Option 3) Manual Payment in INR:
Drop us an email to info@softwaretestinghelp.org for manual (direct bank transfer using net banking or cash deposit) payment options
Important: If the system doesn't accept your credit card or if you have any questions that have been unanswered, please email me directly at: info@softwaretestinghelp.org or visit this FAQ page.
Thank you,
Vijay and Swati.
P.S. If you need this QA Live Project training, and are hesitating, just remember that those who hesitates are lost. The law of nature is simple – Sow and you shall reap. You have to be prepared to sacrifice today, for even greater gain tomorrow. Like you, even we struggled from month to month. Now we are confidently facing any real job challenge . I know from experience, that if I don't make the sacrifice earlier, I never get ahead in life. If you want to get ahead in life, this is your moment. Don't hesitate.
We know the importance of your money. Hence we are offering this course for very affordable price compared to the institutes who are offering 4-5 days crash courses for more than $1500. For sure, we know our hands-on job oriented real project training from experienced professionals is better than any of those courses.
Providing quality training to you is our responsibility. We will use all our experience to make you an expert software tester.
Agree, Reserve my Seat Now!

---
© SoftwareTestingHelp.com – Helping testers since 2006. All rights reserved.