Got a question? Read FAQs or email us at: Info@SoftwareTestingHelp.com

Since 2006, SoftwareTestingHelp's mission has never changed: Providing the BEST Practical and Precise, yet the most affordable, software testing training to ALL.

Visited and trusted by millions of software testers every month!
Selenium WebDriver + JAVA Training Course -

Weekend Batch



By SoftwareTestingHelp.com Team
 Home | Why Us? | FREE Demo | Pricing | Contact
---
Test Automation Using Selenium WebDriver + JAVA
Upcoming Batch Schedule:
Course name: Selenium WebDriver + JAVA Training - weekend batch
Course start date: Not scheduled yet
Time: 6.00 AM PST 28th Jan | 9.00 AM EST 28th Jan | 2.00 PM London time 28th Jan | i.e. 7.30 PM IST 28th Jan 2017
Course Duration: 6 Weeks, Saturday-Sunday Batch, 2 days per week, ~3 hours per day. Total 35+ hours of Live training sessions and live project + access to all training videos and bonus material.
Click on below button to pay online with credit card and reserve your seat Now!

Note - See more payment option at the end of this page.
---
Hi Everyone,
We have redesigned our Selenium Training course syllabus to meet growing skill demands of the current job market. Here is all new Selenium WebDriver and Java course covering concepts from basics to advance test automation.
Weekdays Selenium training batch with comprehensive course curriculum:
Please continue reading to get more details about this Online Selenium WebDriver + JAVA Training batch from the experienced professionals at SoftwareTestingHelp.com
The Most Practical, hands-on and Inexpensive Selenium WebDriver + JAVA Training Course.

This online course is designed by working professionals in a way that the course will progress from introducing you to the basics of automation testing using Selenium to the most advanced Selenium topics. We will also make sure to teach you JAVA basic and advanced techniques which will ease your Selenium learning process.

Who is this Course for?
In this course, we will teach you the most practical things required for you to get and survive an automation testing job.

This is a perfect course for those who are:
Software Testers who wants to start with automation testing


Software Testers who wants to get an automation testing job

Automation testers who want to upgrade their skills

QA engineers

Test leads/managers

Experienced professionals from IT or Non-IT background having basic knowledge of software testing and wants to explore automation testing skills.

Those who want to learn automation testing process and frameworks
Why Enroll with SoftwareTestingHelp?
Practical Selenium training with hands-on examples

Instructor-led LIVE training sessions

,

you can ask queries directly to our instructor

Real-time LIVE PROJECT used for training

JAVA basic plus advanced training to ease your Selenium learning process


All materials PPT, daily notes, and video recordings shared after the session

Selenium training by experienced working professionals who are passionate about automation testing


Course content designed by considering current Selenium requirements and the job market

Practical assignments at the end of every session

Individual mock interview session

Free eBooks to learn manual testing as well


Video recordings available to revise training

Assistance for passing the ISTQB certification with our premium ISTQB question bank

Course completion certificate (on request)

All-time support for your questions

Lifetime enrollment - Pay the one-time fee and access video training sessions as many times as you want.  (no need to worry about missing any session)
I just wanted to thank you STH for the course and helpful training Selenium webdriver, JAVA and other dependent topics. Thank you to the instrcutor for giving lot of info on technical side and clarifications. It gave me the confidence to start with a new job.

Thank you Vijay for organizing and for all the help.
- Uday

The instructor is very knowledgeable on all parts of Selenium and Webdriver. She was also very knowledgeable about Java as well. Another important aspect of the class was her willingness to spend extra time on a subject until people understood. Last but certainty not least she made the class enjoyable and interesting.
- Brad Winborg

Very interactive detail oriented with lot of material and links to support the learning. Instrcutor is very patient and kind to clear our doubts and repeat some topics again and again. Thank you very much STH for offering the training at reasonable price and making the learning more simple and enjoyable. I very much appreciate your effort.
- lalitha
Course Content:
Note: The Live project is included throughout the training.
Week 1 – Selenium IDE 
1.
Need of Test Automation

Why Open Source Test Automation

Introduction to Various tools of Test Automation

Introduction of Selenium

Selenium Components

First Record and Replay of Scenario in Selenium IDE
2.
Introduction of Web Technologies – HTML, XML, XPath, CSS and DOM

Locators in Selenium

Introduction of Selenese Command Types

Selenium Action Commands

Verification and Assertion Commands
3.
Store and StoreEval – Accessor Commands

Creation of Test Suite

Debugging IDE Script

More on Selenium IDE
Week 2 – Java
4.
Introduction to Java

Setting Development Environment - Eclipse

Walk through of Java concepts

Hello World!

Introduction to Java Data Types

Taking Input from End User
5.
Numerical Data Type and Numerical Operators

Boolean Data Type and Operators

Conditional Statements [IF], and Loop [While]
6.
Conditional Statement[SWITCH]

Loop [FOR]

String Data type and functions

Command Line Parameters
Week 3 – Java
7.
Arrays

Hash Tables/ Map Object

Regular Expression
8.
File Handling

Java OOPs Concept

Concept of Classes and Objects in Java
9.
Concept of Packages in Java

Exception Handling

Debugging in Java

General Java Programming tit-bits
Week 4 – WebDriver
10.
Overview of WebDriver

Introduction to browser specific drivers

Setup WebDriver package on system for eclipse

Set up firebug for Firefox

Exporting pre-recorded test scenario in IDE to WebDriver, and executing it.

Webdriver class files, and their methods
11.
Automating different HTML Elements text fields, buttons, links, check box, drop-down etc

Verifications and Assertions

Parameterization

Synchronization

Desired Capabilities and IE 
12.
Handling Web Table

Handling Drop Down elements

SwtichTo Command -Handling Frames, Popup Windows, Alerts

Brief about Ajax and how to handle Ajax with WebDriver
Week 5
13.
JDBC –Introduction

Components of JDBC

Set JDBC with MYSQL Connector for Java Project

JDBC with MySQL

Introduction of Selenium Grid

Usage of Selenium Grid, executing same test on different browsers
14.
Introduction to Page Object Model

Usage of Page Object Model for DemoSite

What is Test Automation Frameworks

Different Types of Frameworks, overview

Available Test Automation Frameworks on Selenium

JUnit

TestNg
15.
Creating Test using TestNg

TestNg Annotations

Explanation of TestNg XML

Execution of TestNg Tests

Explanation of Testng Folder, and various result files

Parameterize TestNg Test – Data Provider

Capturing screen shots

Custom reporter 
Week 6
16.
Introduction to various Java APIs – Log4J, Apache POI, XML Beans.

Quick Snapshot- Create Logs

Quick Snapshot- Read and Write to Excel Files

Quick Snapshot on – Java Reflection
17.
Demo of Hybrid framework for Selenium

Demo of Keyword Driven Framework for Selenium
18.
Refresh the concepts on selenium

Best Practices in Test Automation

Real time challenges faced in automation.

Sample Interview questions and the answers

Resume Guidance 
---
Enroll Now! Click to join our upcoming Live batch.
Click on below button to pay online with credit card and reserve your seat Now!

Note - See more payment option at the end of this page.
Course Bonuses: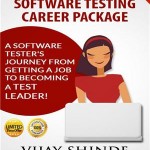 Bonus 1 - Our premium Software Testing Career Package eBook valued $15, yours for free: This is the best source for you to learn complete manual testing concepts. Every crucial aspect of software testing is covered in this eBook. It is a valuable reference source for new software testers, managers, and developers, alike. It has a lot of good information, which is unbelievably practical and easy to understand.

Bonus 2 - ISTQB Premium question bank and study material valued more than $35, yours for free:
Our ISTQB study material will provide everything for you to prepare for this exam. The material is verified by certified ISTQB experts and many students who actually used this material for passing the exam with high scores.
Bonus 3 - Resume review and assistance to prepare a professional resume valued more than $50, yours for free
We will review your resume and help you to make it more effective and professional. We will also help you prepare for an interview by taking mock interview so that you can face any interview confidently.
 
About the Instructor:
The instructor has more than 10 years of rich experience in the field of computers working on varied domains, technologies, and training. She has hands on Selenium and JAVA working experience in top MNCs. She has vast experience of building frameworks for functional and non-functional testing for the variety of projects. For her work on a keyword driven framework, she holds two provisional patents to her name.
It was my first time to attend online training. There were lot of questions and big hesitation whether I could learn online or not. But it all vanished when I attended the first week's sessions from this training.

The training technique is very good that will really help you in learning-phasing, topic, assignment, reading materials. Video recordings also helped me a lot to revise the training at anytime when I want to learn any concept again.

The instructor very experienced, effective, knowledgeable, understanding, encouraging, very patient, and helpful. She explained same topic again and again till we all understood it.

Thanks for the STH support team and instructor for immediately answering our questions and doubts. It shows that it's not merely a business but concern as well for the learning of people.

Definitely, I will recommend this to all my colleagues!
- Josephine

 

Teaching the tool along with java concepts was a good feature, this has enabled me to dive into the automation testing within a month as I was not sure where to start when people asked me to start automating using selenium.
- Praveen

 

Admie the way the training was designed. Instructor handled it really well. I also like the daily emails with the session videos, notes, ppts and assignments etc.
- Baskaran
FREE Demo Sessions:
Try a free demo session to see for yourself the quality of this Selenium WebDriver + JAVA training course that is offered at an unbelievable price.
Live Session:

Course Overview Session:

Why Only Limited Spots?
We want to make sure we are providing personal attention to each student in order to help you learn and master Selenium WebDriver automation testing tool quickly.
Upcoming Batch Schedule:
Course name: Selenium WebDriver + JAVA Training - weekend batch
Course start date: 28th January 2017
Time: 6.00 AM PST 28th Jan | 9.00 AM EST 28th Jan | 2.00 PM London time 28th Jan | i.e. 7.30 PM IST 28th Jan 2017
Course Duration: 6 Weeks, Saturday-Sunday Batch, 2 days per week, ~3 hours per day. Total 35+ hours of Live training sessions and live project + access to all training videos and bonus material.
Live training sessions will be conducted using the GoToWebinar online training software. You don't need an account. We will send an invitation to join the live sessions.
=> Selenium WebDriver and  Java LIVE Course + Videos
For Live sessions + Videos + All Bonuses

US $250 Only US $149 or INR 15000 Only INR 8990/-  (That's more than 40% discount for limited 15 spots only).
Important: If the system doesn't accept your credit card or if you have any questions that have been unanswered, please email me directly: info@softwaretestinghelp.org
Click on below button to pay online with credit card or Paypal and reserve your seat Now!
Payment Options:
Option 1) Secured Credit Card or Paypal Payment:

Option 2) Manual Payment in INR:
Drop us an email to info@softwaretestinghelp.org for manual (direct bank transfer using net banking or cash deposit) payment options.
Thank you,
Vijay
P.S We know the importance of your money. Hence we are offering this course for a very affordable price compared to the institutes who are offering 4-5 days crash courses for more than $1500. For sure, we know our hands-on job oriented training from experienced professionals is better than those crash courses. Providing quality training to you is our responsibility. We will use all our experience to make you an expert software tester.  
Agree, Reserve your Seat Now with above payment options!
Please feel free to contact us for any queries.
© www.SoftwareTestingHelp.com - Helping testers since 2006. All rights reserved.